We're often asked about the process of setting up a business and are always happy to help and advise. There are a number of important things to have in place to make sure your new company complies with UK law and is protected should anything go wrong.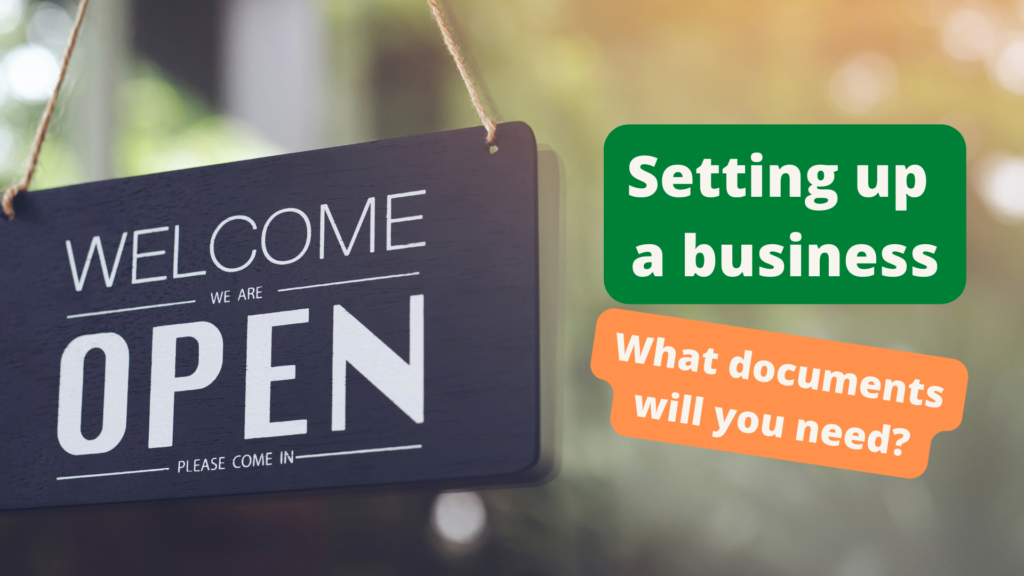 In this month's blog we take a look at the legal documents you should have a place when starting up a new business – specifically, a limited company.
Main steps to set up a company
There are a few steps to creating a business:
Get advice on whether a limited company is the right approach
Choose a company name, directors and a company secretary (they might all be you!)
Decide on shareholders – you need at least one
Prepare legal documents (as per below)
Register your company with Companies House
Legal documents you will need
Memorandum of Association
This is a legal statement where you agree to form the company. It needs to be signed by all shareholders. BUT if you register your company online, the Memorandum of Association is created automatically as part of the process. If you register by post, you can use a government template for the Memorandum.
Every limited company that is set up must have Articles of Association. This sets out how the company is to be run and how decisions will be made by its directors. It includes rules about offering share options to staff and how you will run director meetings.
Again there is a template you can use when registering with Companies House, called the model articles. You can change your document over time as your company develops.
While there isn't a legal requirement to have a shareholders agreement, if you have more than one shareholder – including if this is your spouse – it's a very good idea to get this document in place. Like most legal contracts, it's there to prevent future conflicts and resolve disagreements.
The shareholders agreement sets out the rules to follow if a partner wants to sell their shares in the business or if they decide to leave.
Legal documents to consider
Supply of Services Agreement
A Supply of Services Agreement is a contract setting out what your company will do for the customer or client. These agreements are essential business tools for professional trading and business relationships. Without clearly defined and agreed contracts there's a risk of misunderstanding because you and your client have different expectations. By setting our all the details clearly, you can protect both your own company and your customer.
If you work with your clients on a project basis, this is a useful document. It sets out the scope of the project, how long the project will take and the objectives to be met. It'll also state how much the project will cost and what the client will receive at the end.
Non-disclosure Agreements
If you and your client will be sharing confidential information, a non-disclosure agreement is a document where you (or your client) confirm that they will not disclose the information to any third party. The agreement will define what is confidential and how long it is valid for.
Directors' Service Agreements
Directors have certain duties to a company that are not generally covered in a standard employment contract. This document will set out the director's specific role and duties, their role in decision-making and the benefits they're entitled to. There are commonly clauses preventing the director from setting up a company that competes with yours in the future.
There are many more legal agreements and guidelines to consider, depending on the focus of your new business – all of which are there to protect you in all kinds of scenario. There's no substitute for qualified legal advice, and we will always point you in the direction of professional support as necessary. But for an initial conversation about setting up a business and what's involved, we're highly experienced and very happy to help.
As Lune Valley accountants we can help with drafting and submitting financial statements and many other services for small businesses. Contact us today.