Have you ever had a suspicious phone call or email claiming to be from HMRC?
Unfortunately, the number of fraudsters targeting small business owners, the self-employed and other individuals is rising all the time. According to the National Cyber Security Centre, HMRC was the third most spoofed government body in 2022, behind the NHS and TV Licensing.
In this month's blog, we share tips and advice to protect you from being caught out.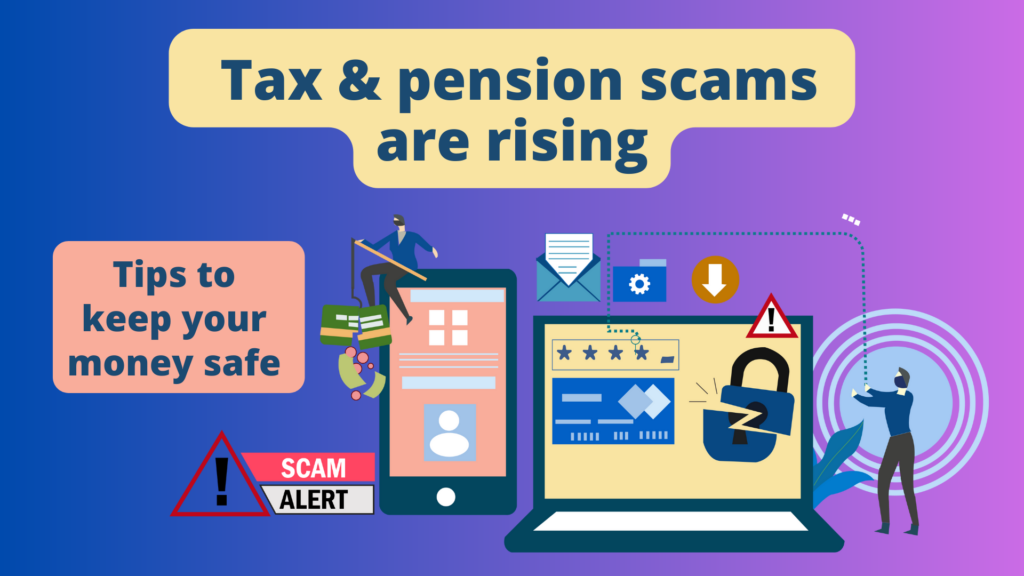 1. Avoid tax phishing scams
Always be sceptical of any contact from HMRC that asks you to share personal or financial details or requests you to immediately transfer money. HMRC will generally give you time to settle any funds owed.
If in doubt, contact HMRC directly, using a phone number listed on the government website.


2. Check on the latest scams

There are many different types of scam in operation, from suggested rebates to requests to update you tax account details. Other threaten legal action for tax avoidance. Don't act on anything until you have checked the details.
The HMRC website even lists the most common scams and requests that you report suspicious activity. You can forward suspicious emails to phishing@hmrc.gov.uk and texts to 60599.
3. Never share your login details
Never share your HMRC login details with anyone. These give access to your personal information and increasingly, fraudsters use people's details to request tax claims paid to their own bank. This leads to innocent people having to pay back false claims made on their behalf.
Note that your accountant or tax agent do not need your HMRC login details and will never ask you to share them.
4. Choose your tax agent or accountant carefully.


If you choose to appoint an agent for support, take time to check their credentials. Sometimes criminals pose as accountants and offer their services to make tax claims for you.
Check that they are qualified and accredited – this is usually stated on the company website. There is advice on choosing an agent on the HMRC website. Read customer reviews about the agent to ensure they are trustworthy and provide a good service.
5. Watch out for pension scams
One of the most shocking types of fraud is where criminals cheat victims out of their pensions, leaving them without the funds they need for retirement.
Pension scammers try to persuade you to transfer your pension pot to them or to withdraw funds from it. Some might seem trustworthy, but it's never worth the risk. Always get professional financial advice before accessing your pension fund or transferring it.
The Financial Conduct Authority (FCA) website highlights some scams to beware of.
Note that people aged between 44 and 66 are most at risk of falling victim to pension scams. Beware any contact out of the blue offering a free pension review, or help to access your pension before the normal minimum age. This is currently age 55.
6. Beware of Tax avoidance schemes
Tax avoidance is bending the rules to reduce the amount of tax that someone pays. It deprives public services of the vital funding they need. If you are found to be using a tax avoidance scheme, you'll have to pay the tax that is legally due, plus interest, plus you may have to pay a penalty.
There are many tax avoidance companies, and HMRC publishes details of schemes it believes are being used to avoid paying tax due.
If you're using any of the schemes shown on the list, it's best to withdraw from them and settle your tax affairs to prevent building up a large tax bill. HMRC offers advice and support for anyone in this situation, so don't be afraid to contact them.
7. Don't pay to contact HMRC

You may come across 'HMRC call connection' services, advertised online. There's no need to ever use these services – they are unnecessary and costly. Contact HMRC directly on its 0300 helpline numbers as listed on GOV.UK.
If you're unsure about something and would like to discuss it, we're happy to help. We support individuals and small businesses with tax management and all accounting services in the Lune Valley. Contact us today.